With apologies to Peter Tory, most of the facts on this page are gleaned from his excellent book Giles: A Life In Cartoons which I thoroughly recommend you go out and buy if you like Giles. ISBN 0-7472-0678-3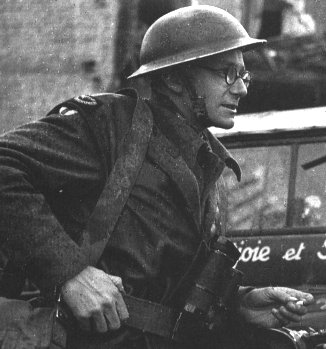 Giles During the War
Ronald Giles was born, next door to a pub at the Angel Islington, London, England on September 29th 1916
He was christened Ronald but soon had a nickname of Karlo, from some uncharitable friends, because of his likeness to horror film actor Boris Karloff. Karlo was then shortened to Carl and the rest is history.
Giles described himself in the first Giles annual answering the question 'What is Giles like?' with 'Well in a crowd he could hide as a man of no importance'
Giles left school at the age of fourteen and found employment as an office boy, and then as an animator on cartoon films. He was paid ten shillings a week.
At eighteen Giles moved to work at Elstree for Alexander Korda. He was an animator on the full length film - The Fox Hunt. The project was never properly completed and has only been shown briefly at London's Curzon cinema.
Giles had an accident on a Panther 600 motorcycle. He is incapacitated for nearly a year, with a fractured skull and damage to his drawing hand.
In 1937 Giles moved to London to be with his mother after the death of his older brother. He was offered employment at Reynolds News - A left wing Sunday paper.
Giles married his cousin, Joan, in 1942. Pictures were taken by someone at Reynolds News, but they didn't come out.
In the Summer of 1943 Giles was approached by the Daily Express and subsequently joined them for the princely sum of 20 guineas a week.
The first Giles cartoon appeared in the Express on October 3rd 1943.
The Giles Family first appeared, in prototype form, on 5th August 1945.
Giles didn't like being interviewed, and so there are hardly any television or radio programs featuring Giles. If you asked him about himself he usually says 'grk'
Giles hated level crossings and their keepers, and the railway system in general. There are many cartoons on these subjects.
Giles received an OBE in 1959.
The Royal family have, as well as many private sketches, at least 36 Giles originals. All were specially requested.
There were approximately 7500 official Giles cartoons. But many, many more private sketches, charity Christmas cards, and even a calendar for Guinness.
April 12th 2000 - The Daily Express announces that Giles has been voted Britain's Favourite Cartoonist of the 20th Century. Giles topped a poll of over 1000 cartoonists and enthusiasts, beating David Low (Colonel Blimp) and Gerald Scarfe into second and third places respectively.
See the article on the Express Website
---
If you have any facts / stories about Giles you would like to share I will be quite happy to publish them here.
---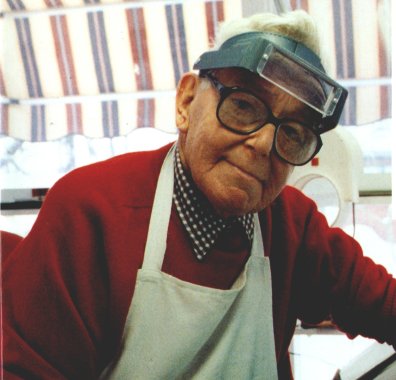 An older Giles
Carl Giles died in 1995 aged 78