I was staying in London for a few days as my wife was attending a training course near Euston station, and I had some time off before starting a new job. In a moment of madness during the week I decided that it would be a fun idea to go to Ipswich as I was probably as close to it as I would get for some time. (My usual home is in Staffordshire, and occasionally Swindon) And there is only so much shopping one can do on Oxford Street !

So after hopping on the train I arrived, after a short delay because of signalling problems, in the rain soaked home of Giles cartoons for many a year.

The first thing I did was go to the Tourist Information Bureau and asked them about Giles. They kindly pointed me in the right direction for the statue of Grandma, and sold me a leaflet about the Ipswich Sculpture Trail. The exorbitant cost of 20p gave me an informative leaflet, sponsored by the Daily Express, and has a black and white picture of the Grandma statue on the front. Below are a couple of pictures that I took of the statue.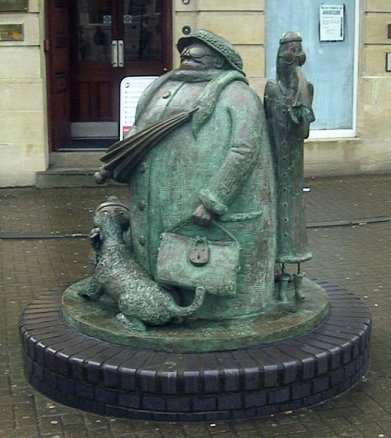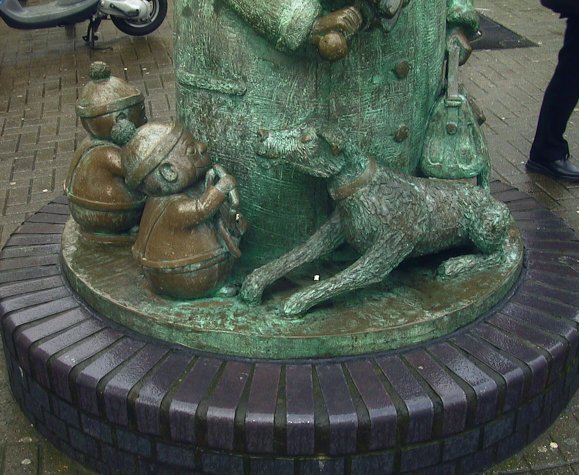 The information leaflet states that the statue was made by Miles Robinson. He was approached by the Ipswich Promotion Bureau to design and make the statue. It was unveiled in 1993 by Warren Mitchell in the presence of Johnny Speight and Carl Giles.
The statue stands at the junction of Quuens Street and Princes Street, and Grandma looks up at the building where Giles had a studio. It also stands in front of a pub which has been re-named 'The Giles'
I went into this pub for a drink and a meal. I asked the barman after ordering, whether there were any other links to Giles in the pub apart from the name. Several very blank looks later he said that the bar manageress may know something more but he was sorry, he didn't know anything about Giles.
After a finishing my meal, I went in search of a bookshop and another visit to the Tourist Information centre, led me to a small book shop just off the main town centre. I found a couple of annuals and a copy of 'A Suffolk Garland for the Queen' which I have scanned and put in the 'Other Publication' section of the website. I had a short conversation with the owner about Giles and he pointed me in the direction of 'The Swann' apparently a pub Giles frequented on a regular basis after creating another masterpiece for the Daily Express.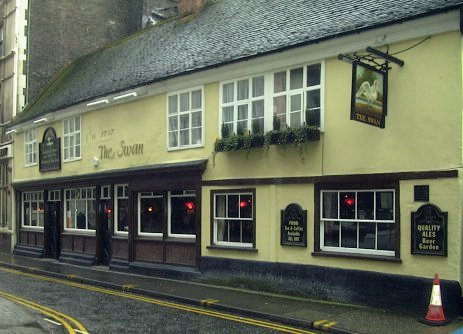 So I went in and had another drink, well I wasn't driving after all ! Again I asked about Giles and more blank looks were returned. So after watching life in the Swann for a while longer than I should have, I managed to get back to Euston and enjoy a night in front of the football in the hotel bar.